Bauer Pottery, like several other area potteries, got their start in gardenware and artware before entering the dinnerware market. A typical lineup might include vases, jardinieres, flower pots and planters, sand jars, urns, bowls and other household and kitchen items. Bauer started their first production of artware around 1915 and showcased their new wares at the 1915 San Diego Panama-California Exhibition. Early Bauer art pottery pieces used a redware clay body and were either slipcast or hand-thrown: Later pieces were produced in stoneware and then glazed earthenware.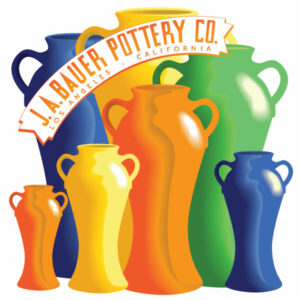 Among the more famous and desirable Bauer artware forms is the Rebekah vase. Bauer produced the vase in nine different sizes, from 8″ to 24″ tall in even increments. While the design is sometimes attributed to Victor Ipsen and Matt Carlton, many of the now iconic shapes popular with collectors predated their arrival at the company. Even as dinnerware production began to take off, Bauer continued producing a wide variety of artware pieces. In fact, they began to glaze many of the early forms in the brightly colored glazes.
Production of larger gardenware items wound down in the late 1930s, and post-war, Bauer continued their artware lines with a focus on smaller household items through the 1950s, including flower vases, ash trays, bowls and figurines produced by notable designers. In fact, Bauer considered abandoning dinnerware altogether in the 1940s due to increased competition from highly automated and efficient companies like Homer Laughlin. So in 1945, Bauer partnered up with designer Russel Wright to create a line of modern-style artware. The resulting "Russel Wright Line" while beautifully designed, was a disaster to produce: Firing and glazing the items created havoc with the kilns. The heavy pieces (some of which weighed close to 10 pounds) were difficult to sell to distributors and consumers and Bauer lost a significant amount of money on the venture. However, these pieces are extremely desirable for collectors today.
In the 1950s, Tracy Irwin led the design helm at Bauer, launching the Cal-Art floral line as well as the Monterey Moderne dinnerware line. Bauer also acquired Cemar Potteries and included items from the Cemar molds in their lineup.