Pacific Pottery Decorated Hostessware
In 1934, Pacific Pottery introduced their "decorated" lines – a series of glazed patterns on the Hostessware shape. Around 50 decorated Hostessware patterns have been found, but many of the patterns are undocumented. Pacific Pottery decorated Hostessware may sometimes have a painted notation or stamp on the bottom indicating a pattern ID. In the image example, there's a notation marked hmc J307. I believe that "hmc" are the designer's initials, as this handmark has been found on large decorated items and may reflect custom (perhaps even unique) designed pieces. J307 would refer to a pattern variant.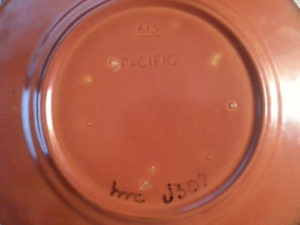 A 1937 article in the "California – Magazine of Pacific Business" on California pottery production states: "Pacific employs an overglaze process on decorated ware which requires three trips through the kilns, but following the third firing the pieces not only are ovenproof, but are crazeproof. California fruits, wheat and poppies are among their most popular items." Company wholesale material refers to the ware as "Pacific Hand Decorated Fused Glaze service," noting that "we can provide a wide range of splendid patterns in this type ware, but all patterns are sold on exclusive control." Note that while Pacific states their ware is crazeproof, collectors will find pieces with heavy crazing that occurred over time.
Pacific decorated ware is in-glazed and went through a triple firing process – once for the bisque body, another for the base glaze color and a third for the design, which is fired into the piece. The designs would be created by workers (women, most likely) on a turning wheel using glaze and brush. In the image at left, you can see the double stilt marks from the two glaze turns through the kiln. Because of the production method, decorated items cost significantly more (30-50% higher) than standard Hostessware.
Around the same time period, Gladding-McBean (on their Padua line) and Vernon Kilns (Harry Bird lines) were also producing dinnerware items using similar in-glazing and painting techniques. Consumers responded the hand-painted dinnerware craze took off in the early 1940s with the success of Franciscan Desert Rose, Apple & Ivy, Vernon Kilns plaids, and Metlox Ivy. Painted dinnerware does not require a third glazing, which means lower production costs, but doesn't have the same look as in-glazed ware.
Pacific Pottery decorated pieces are most commonly found on plates and platters, although the occasional serving piece shows up. Some of the more common patterns include the "BG" plaids, 2007 and 2008 circle designs, "BH" sine waves and "BF" hub and spoke. Based on my research, I believe that decorated patterns were available to department and specialty stores by custom order only.
Decorated Hostessware Pattern Identification
This illustration provides an overview of the different decorated patterns that have been discovered. Some are unique – maybe even one-offs – and others more prevalent. Due to its bespoke production and relative cost, decorated ware is hard to find today. In several large "wedding" (original purchase, unused) sets that I have purchased, decorated ware was incorporated as accent pieces to complement standard Hostessware.
For more examples, check out the Decorated Hostessware image gallery