Pacific Clay Products formed as the result of a series of mergers of several Southern California commercial pipe and tile companies in the late 1800s, the earliest of which was founded in 1886. By 1910 another set of mergers resulted in an entity called Pacific Sewer Pipe Company, which changed their name to Pacific Clay Products Company in 1921. In 1923, a new holding company, The Pacific Clay Products, Inc., led by Los Angeles industrialist William Lacy, was formed.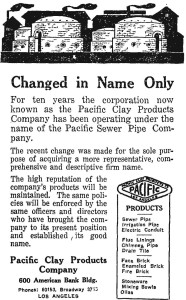 In 1926, the company went public, issuing 100,000 shares at $28 per share. The bankers noted that "adequate clay deposits…insure the company an adequate and continuous supply of raw materials at low cost. Three important plants are operated, two in Los Angeles and the other at Los Nietos. The last-named plant is one of the largest of its kind in the world, having three complete press units and thirty-six kilns of the beehive type. Three large retail yards are also maintained in strategic locations." At the time of the stock offering, Pacific's product lineup consisted of vitrified sewer pipe, electric conduit tile, water pipe, face enamel brick, firebrick, terra cotta, flue lining, stoneware, and drain tile.
By the mid-1920s Southern California saw the beginning of their building boom collapse. In 1927, Pacific reported a considerable slowdown in industrial production, but was continuing to produce building materials at a decent volume with the plants operating around 80%. Looking to diversify, Pacific began producing stoneware specialty ware in the 1920s to supplement their architectural business. Their early offerings included an assortment of kitchen and servingware (bowls, pitchers, mugs and other household items) as well as some gardenware pieces.
By 1930, Southern California building starts hit a ten-year low and with the development slowdown, many of Pacific's plants were operating far below capacity. During this year, Pacific remodeled their Lincoln Heights plant (located at 306 West Avenue 26, Los Angeles) to focus on architectural terracotta and garden pottery production. With the economy in freefall, Pacific was only manufacturing intermittently by 1931. The board of directors intended to keep the plants in operation as much as they could, "chiefly as a contribution to the efforts begin made to cope with the local unemployment situation." But this company of innovators didn't spend time idling: Throughout the Depression, they made continuous investments in research and development, looking for new and better products, and also in automation and efficiency in their plants. While commercial pottery and tile production continued to decline, architectural terracotta, garden pottery and artware line production increased. They introduced a new artware line in 1931.
Even as the company diversified, business declined dramatically in 1932, with the plants operating at 12% of capacity. William Lacy, suffering from a nervous breakdown "induced in part of despondency over business conditions and the plight of the unemployed," committed suicide at age 67 in April of that year. Family members reported that he had been ill for more than a month and "had been depressed as a result of the constant association with unemployed men whom he sought to help." The directors of the company elected John D. Fredericks, former Congressman and vice-president of the company to fill the vacancy. Pacific continued to ramp up their consumer pottery production with the launch of the Hostessware dinnerware line, and expanding out their artware lines. The next year, the company notes that Hostessware and art pottery are "proving an important addition to the company's business…which have gained national recognition." By 1934, the lines were doing well enough that Pacific could make capital improvements in the Lincoln Heights plant, noting that the current infrastructure was unable to keep up with demand. They installed a modern continuous car tunnel kiln to increase production. Pacific notes in their 1934 annual report that volume sales of Pacific Pottery were increasing and had been introduced in the East.
Pacific turned a profit again in 1935 – for the first time in five years – and started to see more work coming in through increased industrial activity and government projects. While it's easy for collectors to romanticize the company's dinnerware and art pottery years, it's important to note that Pacific's focus was always on more profitable industrial clay manufacturing (pipe, brick and tile). With the company taking on more government work in support of the war effort, the pottery division was disbanded in 1942. Longer term, this turned out to be a smart move. Unlike most of their competitors of the period, Pacific Clay Products still exists today.
Want to know everything about Pacific Pottery? Check out
Informal! A Completist's Guide to Pacific Pottery Hostessware