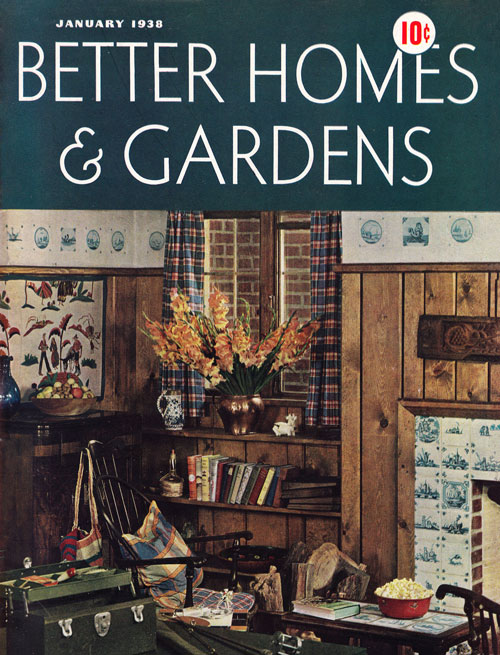 Shelves, Those Smart Space-Savers
The January 1938 edition of Better Homes & Gardens features an article on "Shelves, Those Smart Space-Savers." It's a little hard to see from the image, but there are many pieces of Pacific Pottery Hostessware displayed in the Welsh cupboard. On the bottom shelf, you can see the #430 ring pitcher with #431 barrel tumblers, the #314 footed salad bowl, and directly above it, the #302 beater pitcher. A dominant decorating style in the 1930s was Colonial Revival, and it's always interesting to see the juxtaposition of modern dinnerware design set back into period furniture.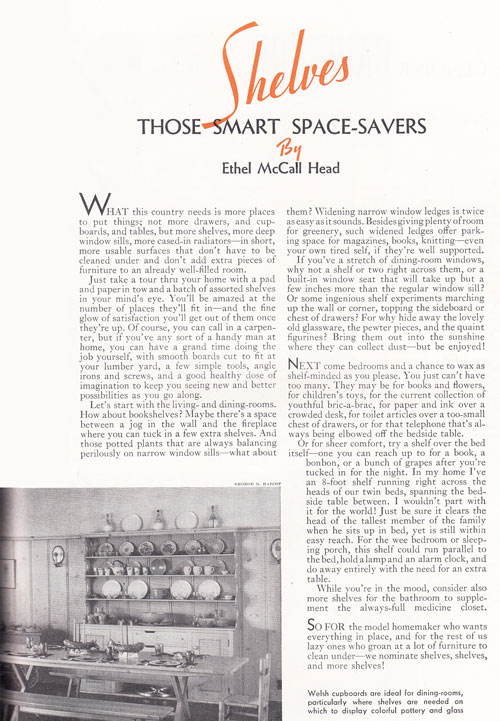 However, Pacific isn't the star of this particular edition. Pages 40-41 provide guidance for throwing your own Mexican Fiesta party, and the dinnerware in the display is Gale Turnbull's "Going to Town" pattern by Vernon Kilns. The dinnerware isn't mentioned by name, merely "As for dishes, Mexican ware of colored pottery is ideal to carry out the idea. But china will blend surprisingly well with a few authentic Mexican pieces to give the table a party atmosphere."
The menu for our Fiesta includes Chile Con Carne, Avocado Salad, Tortillas, Fresh Figs or Dates, and Chocolate whipped to a froth in the Mexican manner. A Mexican party may need never be monotonous!