Harry Bird for Vernon Kilns
The artist and potter William "Harry" Bird designed several bespoke patterns for Vernon Kilns in the mid- to late-1930s. Little is known about Bird – there are rumors that he rented space in Vernon's plant; there is no indication that he was an employee of the company and may have produced his work under contract or self-distributed. All of Harry Bird's designs were produced on Vernon's "Montecito" shape (Early California and others). Bird may have been the first to leverage the in-glazing technique of decorating, also used by Pacific Pottery on their decorated ware starting around 1935.
Olinala- and Montezuma-Aztec Patterns
According to this advertising piece, the actress Dolores Del Rio commissioned a set of dinnerware from Harry Bird and Vernon Kilns based on traditional Mexican pottery designs.  Vernon Kilns offered it to the public as Olinala-Aztec (with rings) and Montezuma-Aztec (no rings). The pottery was available in four colors: blue, green, yellow (orange), and rose on a light beige background. As with most of Harry Bird's designs, these patterns are hard to come by.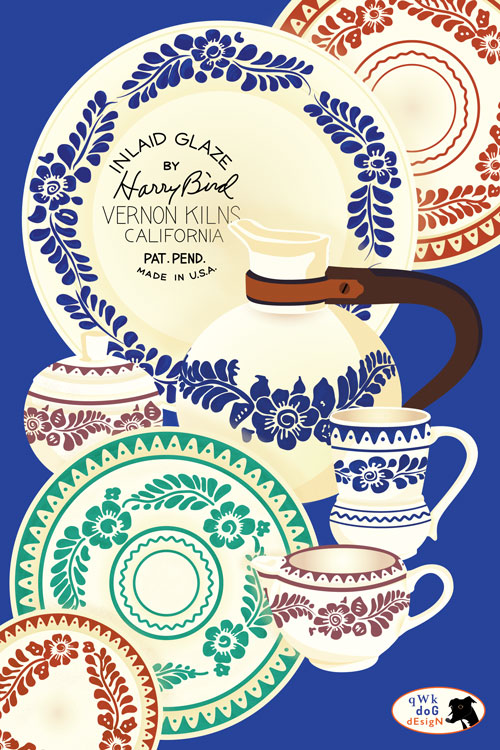 Olinala-Aztec Examples & Backstamp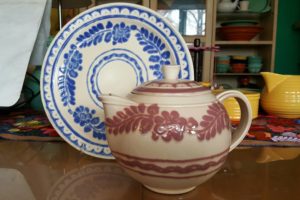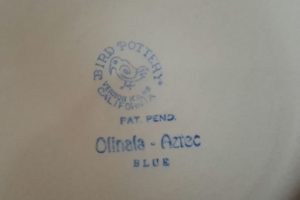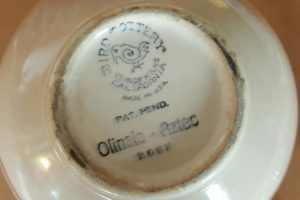 Harry Bird Patterns
Aztec: Montezuma-Aztec, Olinala-Aztec
Banded Flower (BB, BP, BY and BG designated patterns; first letter is for Bird, second is for color, number indicates flower pattern)
Bird Series (Scarlet Tanager, Parrots, Blue Birds, Bird Ring)
Blooming Cactus
Duo-tone (unless noted, with matte glazes):

Beige (single color)
Bridal Satin (ivory color)
Pomegranate
Evening Star (blue and ivory)
Golden Maple (burnt orange and ivory)
Avocado (green and ivory)
After Glow (yellow and ivory)
Tangerine (orange-red and ivory)

Flower series

Begonia
Bird's Eye
Cassia
Checker Bloom
Chinese Lantern
Columbine
Desert Mallow
Desert Poppy
Eucalyptus
Fiddleneck
Geranium
Golden Brodiaea
Guatomote
Incienso
Iris
Lady Slipper
Larkspur
Lily Blue
Lily Orange
Lion's Tail
Lupin
Mariposa Tulip
Morning Glory
Nasturtium
Petunia
Phacelia
Trumpet Flower
Water Lily
Wild Pink

Nautical

Anchor, Flags, Lantern, Life Saver, Sextant, Square Knot, Wheel

Spectrum (geometric designs)

B-30X, Vert, Jaune, Multi-Flori California, Polychrome A-E

Tahiti A-C
Tropical Fish